Fishery Improvement Program (FIP)
CMPA has taken up the FIP very actively from the Middle of 2017 after several meetings with Crab Council Representatives.


CMPA representative Mr. Kishore Kumar (Former President CMPA) has attended both The FIP Managers meeting held at Bangkok during 2016 and 2017. CMPA coordinator Dr. G. Sanjeeviraj has also attended the meeting during 29th-30th September, 2017.


CMPA is taking the lead in involving other organizations such as MPEDA (Marine Products Export Development Authority), CMFRI (Central Marine Fisheries Research Institute), WWF (World Wide Fund for Nature), MSC (Marine Stewardship Council),Tamilnadu State Fisheries Department and Tamilnadu Fisheries University for achieving the goal.


The Fishery Improvement Program (FIP) is a funded program by National Fisheries Institute (NFI) of Crab Council, USA has been initiated almost in all crab exporting nations from 2013. The Indonesia has taken up the study from the year 2013, followed by Vietnam, Philippines, Thailand, Sri Lanka and India. In India FIP became active from the middle of the year 2017 jointly with CMPA.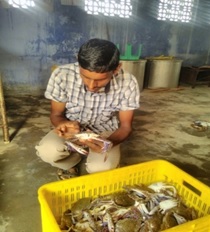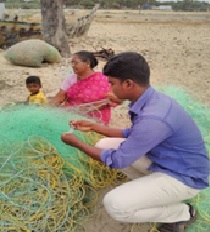 The FIP activity has been initiated from the middle of 2017:
SURVEY REPORT
Assessment Month: September 2017
Area :Tuticorin, Gulf of Mannar
Landing center: Vellapatty

The capture of crab data was taken for all 26 working days of the month. The village has been identified as an exclusive crab capturing village and has nearly 100 boats, which are 18 footer FRP (Fiberglass Reinforced Plastics) boats and 21-23 footer plank built boats, fitted with either Out Board Engines(OB) or In Board engines(IB). On an any given day, 45-50 boats venture into sea for crab fishing every day. These boats land about an average 12.80 kg crabs per boat every day. Thus the quantity of crabs landed during the month of study was nearly 16 metric tons. The companies have procured 10.260 Metric tons.
| | | | | |
| --- | --- | --- | --- | --- |
| SEX | Total Numbers | Total weight in kg | Share % Numbers | Share % Weights |
| Male | 47,093 | 5,473.00 | 53% | 53.36% |
| Female | 41,844 | 4,785.40 | 47% | 46.64% |
| Total | 88,937 | 10,258.40 | 100% | 100% |
Based on carapace length
| | | | | |
| --- | --- | --- | --- | --- |
| SEX | Percentage share on 100-110 mm | Percentage share on 111-121 mm | Percentage share on above121mm | Total |
| Male | 18.12 % | 27.29 % | 54.39 % | 100 % |
| female | 13.28 % | 26.72 % | 60.00 % | 100 % |